Flextel & Vibe develop new app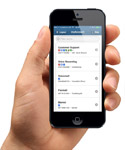 Flextel teams up with Vibe to develop new app Flextel, the founder of the UK's first personal telephone number service, has joined forces with brand agency, Vibe , to create an app for iOS and Android, enabling people to control their calls remotely from any country in the world.
Founded by the former head of telecoms at Vodafone William Goodall in 1992, Flextel established its position as a trailblazer in the telecoms market by becoming the first company in the UK to provide full online personal number selection and delivery via the internet.
The virtual number company appointed digital specialists at Vibe to build on the success of its iPhone app by creating a dedicated iOS and Android app with added functionality.
Using the app with a Flextel number allows people to instantly receive calls on any mobile, international or internet phone (VoIP). It also enables the user to select which phone to use to accept calls, using a single number for convenience and efficiency.
The app offers increased functionality, such as the ability to review credit, re-point numbers, create a call gateway, make use of the conferen